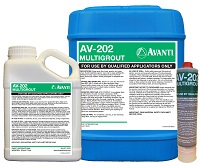 Advantages of Our Chemical Grout
Chemical grouts are known to be the most cost-effective way to stop Inflow and Infiltration (I & I). Grout is also considered a permanent repair. So whether you need to seal a leaking manhole or permanently close an abandoned lateral that won't be used again, you need reliable chemical grouting. At PrimeLine Products, we offer a wide range of chemical grouts that can be used in many plumbing and trenchless repair applications. Our grouts help you achieve perfect results in less time.
Adjustable Curing Times
Most of our Avanti chemical grouting and other grout products feature variable curing times. In a matter of a few seconds or hours, you will be able to use the product which will cure at the appropriate time for your application. There may be times when you have a high flow situation and you need the grout to react very quickly. Other times, you need to allow the grout time to migrate through a crack or into the soil before it reacts. You can count on your PrimeLine Representative to help you determine the best Grout and catalyst for all your applications.
Repair Infrastructure
Over time, pipes, storage tanks, manholes, liftstations, catch basins, and other types of infrastructure may develop cracks. Our chemical grouting accessories and equipment allow you to seal those cracks. In addition to stopping infiltration, you can use our grouts for soil stabilization to strengthen retaining walls, and sea walls. Our injectable Epoxy grouts are great for rehabilitating concrete slabs of houses and buildings and strengthening bridge supports. The grout forms a chemical bond with the material to which it is applied, creating unmatched strength and durability.
Adaptable and Affordable
When replacing infrastructure isn't cost-effective, applying our chemical grout is a wise solution. It can be used for everything from a manhole and joint sealing to repairing an older foundation. If the space in need of repair is too hard to reach, the grout can be used with an accurate and precise injection gun with a long reach. Each of our chemical grouting supplies and products is designed to last for many years. Their ease of application, durability, and strength makes them the ideal choice for residential, commercial, and municipal applications. For more details and product specifications of our range of chemical grout products, reach out to us at PrimeLine Products any time.