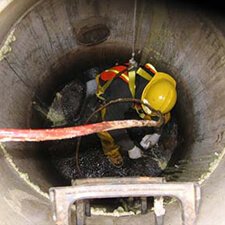 Our Versatile Manhole and Joint Sealing Products
As a leading trenchless rehabilitation equipment provider, PrimeLine Products takes pride in offering a broad range of top-quality equipment and related accessories. Our commitment to quality extends to our joint sealing and manhole sealing products.
Here's a look at our manhole and joint sealing product line:
Product Features
These chemical grouting supplies are designed to stop groundwater infiltration around pipe joints and manholes. The main feature of all of these products is the proven ability to keep water from going where it's not supposed to go.
Many of our chemical grouting products have impressive features that include low toxicity levels and optimal durability and strength. We also carry joint sealing and manhole sealing products that are environmentally friendly and expandable to allow for the creation of stronger seals.
Specifications
All our joint and manhole sealing products offer unique specifications. Avanti chemical grouting products, for instance, can be used to stop active water leaks. Other uniquely appealing specializations of these products include the ability to expand beyond the liquid volume, being non-dilutable in water, and having a controlled reaction time.
Benefits
Enhanced soil stabilization is one of the many benefits of using reliable joint and manhole sealing products. Being able to prevent groundwater infiltration also makes it easier to complete trenchless rehabilitation projects without the hassle of dealing with excess water that can affect adhesion.
Whether you need crack injection materials or other types of sealants, these products are useful because they increase your ability to deliver the desired results. You'll also be able to create long-lasting seals in a way that's efficient and cost-effective.
Here are our featured joint/manhole sealing products:
AC-400®: An Avanti chemical grouting product for managing infiltration in sewer joints. It can also be used for the same purpose for curtain grouting and tunneling tasks.
DenePlug: Rapid curing, this hydro-active Portland cement quickly cuts off manhole leaks and seals cracks. It can be applied on masonry or concrete surfaces above or below water tables.
HYDRO ACTIVE® Combi Grout: Include this expandable material among your chemical grouting supplies and you'll be able to fill open vent holes with convenient injection packers.
HYDRO ACTIVE® Cut: An accelerator that helps grout cure quickly, this sealing material is best for applications involving tunneling, soil or gravel that needs to be stabilized, or the closing of larger volume leaks.
HYDRO ACTIVE® Flex 1000: Ideal for wide cracks in horizontal structures, is resistant to weathering. It also expands according to temperature.
HYDRO ACTIVE® Flex LV: An expandable type of chemical grouting, this hydrophobic polyurethane cures quickly. It also creates tight seals in moving cracks.
HYDRO ACTIVE® Flex SLV: An ultra-low viscosity hydrophobic polyurethane, this injectable product targets hairline cracks in concrete surfaces.
HYDRO ACTIVE® Multigel NF: A water-impermeable gel mass is created when this hydrophilic polyurethane reacts with water. It can also be applied with remote internal pipe packer equipment.
HYDRO ACTIVE® Safefoam: This hydrophilic, MDI-based polyurethane repairs joint or concrete cracks and allows for injection into narrow cracks.
HYDRO ACTIVE® Sealfoam: Available in uncured form, this crack/joint sealant retains elasticity under harsh conditions.
HYDRO ACTIVE® Sealfoam NF: Form a flexible gasket or plug into concrete cracks or joints with this non-flammable, hydrophilic polyurethane resin.
HYDRO ACTIVE® Soil: Boost the bearing capacity of permeable soil with this hydrophobic polyurethane grout. It also offers higher strength, low creep, and more controllability.
Get What You Need Today
PrimeLine Products has been a reliable family-owned and -operated trenchless and pipeline equipment company for over 20 years. Our customers benefit from:
Employees who are drug-tested and background-checked
A professionally trained and certified staff
High-quality standards we've maintained since the beginning
Accurate estimates
Contact us today to get the accessories and equipment you need to deliver the results your customers expect from you. You may also check our online form to buy online now.
Ready to Order With Primeline?
At Primeline Products Inc., our friendly staff is ready to assist contractors and plumbers with all of their questions and concerns.
Contact Us