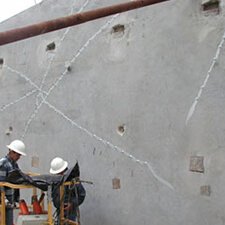 Chemical Grouts for Crack Injection from PrimeLine Products
At PrimeLine Products, we offer a comprehensive range of repair and restoration applications, including lateral pipe lining and connection repair, sewer cleaning equipment, testing equipment, wetwell rehabilitation, manhole and joint sealing, chemical grouting, and many more.
We also take pride in providing industry-leading solutions when it comes to crack injection. Get in touch with our team here at PrimeLine Products to get started on having the right equipment for this specific task.
Restoration with Epoxy Injection
Crack injection with an epoxy sealer is a chemical grouting method for economically repairing, patching, and surface sealing non-moving breaks and cracks in concrete structures, including septic tanks and groundwater containers.
A Full Range of Grouting Supplies
PrimeLine Products offers a range of epoxies and chemical grouting supplies for grouting and restoration, namely:
Denepox I-150 – A general-purpose epoxy gel for bonding, patching, and surface and interior sealing, particularly surrounding injection ports before pressure injection. Fifty-percent elongation properties will flex with shifting concrete.
Denepox I-1400 – A rapid-cure resin for cracks up to a half-inch in width between bearing pads or in concrete. Medium and high viscosity adheres to the majority of building materials.
Denepox I-40 – An ultra-low-viscosity application with a long pot life for pressure injection or gravity feeding in hairline cracks. Moisture insensitivity allows application in dry to damp conditions.
Denepox I-300 – A standard-viscosity adhesive for pressure injection in static cracks. Structurally adheres to most building materials in damp or dry conditions.
Denepox AquaGel – An underwater, non-sag gel system with excellent adhesion and impact resistance. Exceptional wetting qualities assist in bond strength.
Denepox I-Gel – A high-strength, injectable gel adhesive for repairing wide cracks or making up for material shortage. A no-shrinkage gel suitable for an anchor-bolt setting.
Denepox Gel 125 – A high-strength, no-sag gel for bonding, patching, and surface and interior joint sealing. Has high adhesive tenacity and a high level of flexibility with a 30 to 50-percent elongation.
Denepox Gel LPL – A moisture-insensitive chemical grouting system for bonding new concrete to spalled or old concrete. Adding sand creates a grouting mortar for repairs on vertical structures in wet or damp conditions.
Denepox Mortar Loc – A moisture-insensitive, low-modulus system binder for epoxy mortars. Works with five to six times its volume in dry sand. Serves as a bond between materials and hardened concrete.
Denepox Rapid Gel – A no-sag, rapid-curing, and quick-setting gel for surface sealing, patching and bonding substrates. Its one-percent elongation as a thixotropic gel makes it suitable for surface patching and port adhesion during epoxy injection.
Denepox Void Loc – A low-exotherm, moisture-insensitive, and high-strength resin for filling voids and wide cracks in concrete. It has chemical resistance and bonds to clean metals.
HYDRO ACTIVE® Flex 1000 – A hydrophobic polyurethane for sealing leaking cracks and joints in concrete when mixed with HYDRO ACTIVE Flex Cat. It creates flexible plugs or gaskets in cracks or joints. Expands with water, quickly curing as corrosive-resistant and flexible closed-cell foam.
HYDRO ACTIVE® Flex LV – NSF 61 potable-water-approved and hydrophobic polyurethane that expands in contact with water, creating a tough and corrosion-resistant closed-cell foam. Creates flexible gaskets and waterstops in concrete joints.
HYDRO ACTIVE® Flex SLV – A hydrophobic polyurethane with ultra-low viscosity for hairline cracks. Expands in contact with water and cures quickly as a flexible and tough foam with resistance to most mild acids, organic solvents, petroleum, alkali, and microorganisms.
Additional Grouting Applications
PrimeLine Products also offers cementitious products and chemical grouts for slab jacking, annular space grouting, and soil stabilization.
As a proud distributor of Avanti chemical grouting products, we offer polyurethane, acrylic, and ultrafine cements for stopping water infiltration, controlling groundwater, stabilizing soil, and encapsulating hazardous waste.
We also offer a line of accessories and equipment, including caulking guns, mini booster pumps, combi packers, injection ports, strainer pipes, oakum, and more.
Consult Us Today
At PrimeLine Products, we are a family-owned and -operated trenchless rehabilitation equipment provider that has been sustaining the highest levels of quality standards for over two decades. Our experienced team has been drug-tested, has passed a background check, and is professionally certified and trained to provide accurate estimates for all your grouting and sealing needs.
Contact our trenchless and pipeline equipment experts by calling us or buy online now by filling out our form. We look forward to addressing your crack injection and other chemical grouting needs.
Ready to Order With Primeline?
At Primeline Products Inc., our friendly staff is ready to assist contractors and plumbers with all of their questions and concerns.
Contact Us