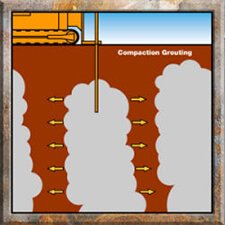 Our Chemical Grouting Supplies for Sealing and Soil Stabilization
Chemical grouting is a means of blocking the intrusion of groundwater in pipelines or underground structures. Soil stabilization with compaction grouting is a form of grouting technology carried by PrimeLine Products. It displaces and reinforces loose and fine soils; stabilizes sinkholes and underground voids; and improves the load-bearing characteristics of soil under structures.
PrimeLine Products for Stabilizing Soil
In addition to trenchless and pipeline equipment, PrimeLine Products carries a line of cementitious products and chemical grouts to stabilize soil, grout annular spaces, and carry out slab jacking. These products include:
HYDRO ACTIVE® Cut – A hydrophobic polyurethane. When in contact with water and combined with the HYDRO ACTIVE Cut Cat accelerator, this product cures as an impact and chemical-resistant closed-cell foam. It's used for tunneling, filling large voids in gravel layers, joints, rock fissures, and concrete structures, as well as a block to gushing water.
HYDRO ACTIVE® Soil – A hydrophobic polyurethane for increasing the bearing capability of permeable soil, with or without a HYDRO ACTIVE Soil Cat accelerator. Depending on the accelerator amount, this product expands with water and cures quickly as a corrosion and microorganism-resistant foam, suitable as a below-grade barrier to water and chemicals.
AC-400® – A patented sealant based on a monomer system to control infiltration in joints and water in tunneling. Also used as curtain grouting, this product has a toxic exposure at only 1/100 that of acrylamide grout and 1/50 that of NMA. It has a low viscosity and is not flammable.
Aqua-Tite – A fast-reacting polyurethane foam for blocking high-volume water flows. No HFCs or CFCs. It has a formulated density of four pounds per cubic foot and a stable pour temperature between 70 and 100 degrees Fahrenheit. It's also suitable for filling rock fissures, annular spaces, and underground tanks and is appropriate for mine tunnels and concrete slab jacking.
Microfine Cement MC 300 – A cement of ultrafine particles based on blast furnace slag. It's purposed for injection into rock, loose soils, and concrete as well as for down-hole applications. Its composition is similar to that of cement with a high sulfate resistance. It seals or stabilizes earth foundations for such structure as dams, tunnels, oil storage tanks, and deep foundations.
Additional Chemical Grouting from PrimeLine Products
Chemical grouting also serves as barriers to groundwater intrusion in pipes and are utilized for epoxy injection, concrete restoration, and more. PrimeLine Products offers chemical grouts for such applications as:
Crack injection – Epoxies and chemical grouts, including the De Neef Denepox and HYDRO ACTIVE products, are available here at PrimeLine Products for your crack injection projects.
Manhole and joint sealing – We provide a range of chemical grouts for the prevention of groundwater infiltration in manhole structures and pipe joints. Our solutions are among the most reliable for manhole and joint sealing needs.
Avanti chemical grouting – We offer high-quality grouts by Avanti International. Our Avanti chemical grouting products are the top choice for controlling groundwater, containing hazardous waste, blocking water infiltration, and stabilizing soils in geotechnical, municipal, commercial, and industrial projects around the world.
Additional accessories and equipment for trenchless pipeline repair and chemical grouting round out your business's services and reliability.
Consult an Experienced Provider
We're a family-owned and operated trenchless rehabilitation equipment provider, maintaining the highest level of quality standards and services for more than two decades. Every member of our team has field experience, professionally trained and certified, and has passed a background check and drug test.
We understand the complexities involved in trenchless plumbing and repair, and we work in partnership with vendors, allowing us to make accurate estimates on the chemical grouting supplies and plumbing equipment you need to stay competitive. Call us or buy online now to find out why PrimeLine Products is the most trusted equipment provider of many contractors today.
Ready to Order With Primeline?
At Primeline Products Inc., our friendly staff is ready to assist contractors and plumbers with all of their questions and concerns.
Contact Us