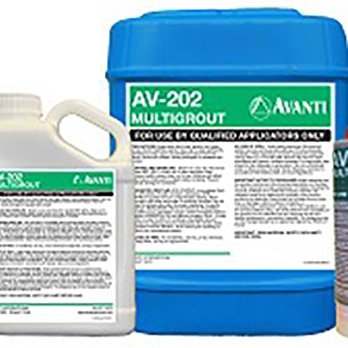 Is Avanti Grout Best for Your Needs?
We carry an expanded selection of grouting solutions, including Avanti chemical grouting, due to the specialized nature of the product. The type of grouting that's best for your needs depends on many different factors, including type of application, soil composition, and water dynamics.
It Prevents Groundwater Intrusion
The chemical grouting products from Avanti helps in the prevention of groundwater intrusion into different structures, pipes, and tanks. The grouts come in an array of formulations to meet a number of applications. By preventing unwanted groundwater intrusion, it reduces the risk of rust, corrosion, and premature failure of underground structures. Moreover, our grouts also extend the lifespan of pipes and other infrastructure.
It Provides a Rock-Solid Foundation
These chemical grouting supplies also afford you a solid foundation for underground storage tanks, pipes, and more as it stabilizes soil. There are a number of soil types that tend to shift more than others. Sandy soil is composed of particles that easily slip past one another, especially in the presence of vibration or nearby construction. The grout stabilizes clay soil that expands when saturated, as well. Avanti grouts prevent structural damage, premature collapse, and the need for costly and disruptive underground repairs by stabilizing the foundation.
It Offers Protection Against Contamination
We recommend the use of Avanti grouts when it comes to manhole and joint sealing. Any form of contamination via the edges and corroded areas creates a negative impact on underground infrastructure, particularly in places where conduits and pipelines carry fiber optic and other communications lines, gases, and fluids. The grouts offer sound protection against automotive runoff, sewage leaks, dust, dirt, and other substances that could damage the cable, conduit, and pipes.
PrimeLine Products also offers a range of other chemical grouting accessories and equipment for trenchless contractors. Take a look at our selection and contact us today to learn more about how we can take your services to the next level with exceptional equipment and practical training!