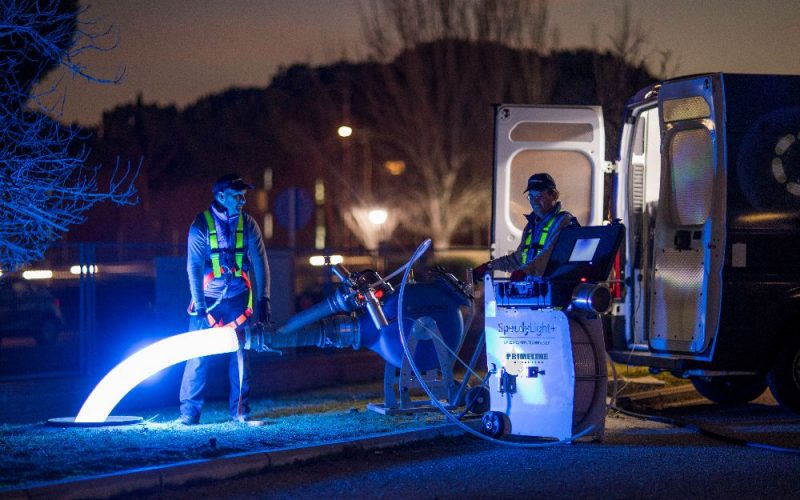 How UV Curing Helps Cut Costs
UV light curing can be called a key solution for trenchless plumbers because it hits all the important notes for clients. It's fast, low maintenance, environmentally friendly, and cost-effective. But more than that, UV LED curing isn't just a quick option, it's also an affordable one too. And that's precisely why we include it in the Primeline Trenchless lineup of premium plumbing tools, equipment, and other products.
Low Operating Cost
Overall operating cost is a key metric in any industry and trenchless plumbing is no exception. When you are using the same piece of equipment every week, or even every day, then even a small change in operating cost can have a big impact on the bottom line each quarter.
SpeedyLight+ LED performs well under this standard due to its low power usage, minimal maintenance requirements, and fast action. It uses only a fraction of the power of many conventional curing alternatives and can move at a speed of over 3 feet per minute, which really cuts down on service time.
Minimize Manpower Requirements
UV curing methods also help contractors cut costs by minimizing manpower consumption. Rather than deploy a big team to handle heavy, expensive equipment, the SpeedyLight system is designed for easy setup and takedown. It has sturdy wheels and the whole rig is only about 150 pounds, so it's easy to get it where you need it.
Eliminate Emissions and Cut the Cleanup
Another way UV pipe curing solutions saves money is by eliminating emissions and cutting cleanup. This technology has virtually no impact on the environment or the work site. This means operators don't need to spend time or resources setting up lots of preventative measures or cleaning up the area after they are done.
Your One-Stop for Prime Plumbing Technology
SpeedyLight is one of our most innovative and popular items, but it's certainly not the only solution we offer. Primeline Trenchless is proud to offer a comprehensive lineup of select plumbing products suitable for any trenchless contractor. Contact us today to learn more about our products and how they can address your current needs!