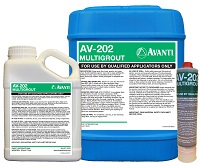 Why We Recommend Chemical Grouting to Pipe Businesses
Chemical grouting products stop the intrusion of groundwater into pipes, hoses, manholes, and other areas. This product is useful, easy to apply, lasts for a long time, and cost-effective. At PrimeLine Products, we're proud to offer a wide selection of chemical grouts with formulas that work for municipal, commercial and residential pipe repairs. Read on to learn why we recommend chemical grout to pipe restoration professionals.
Easy to Use
Manhole and joint sealing and other chemical grouts are easy to apply. Small jobs can be easily repaired with caulk guns while the larger jobs can be completed with an inexpensive pump. We offer grout systems that include the tools and accessories you'll need for applying the grout. We recommend using urethane grout on residential projects and most commercial jobs. While we recommend and acrylate and acrylamide grout for mainline rehabilitation. No matter what type of pipe repair or structure you're working on, we have the tools and supplies for the job.
Range of Applications
Chemical grouting supplies serve many purposes in plumbing repairs. They create a seal around underground water containers and structures. They can also be used for manholes, catch basins, joint sealing, filling cracks, and stabilizing soil. As grouts differ in their expansion rates and amount of flexibility, some grouts are much better suited to certain applications. As each type of grout is suited for a different purpose, we recommend contacting us to determine the best product for your application.  We carry a supply of each type so that you will have what you need once you understand the scope of the client's issue and the environment in which the repair must be made.
Cost-Effective
With our multi-grout system and Avanti chemical grouting products, you can complete a repair and restore water or sewer service to your client on the same day. The ease of application and fast curing period mean that you don't have to spend a lot of time on each worksite. The long lifespan of chemical grout means that it will last as long as the pipe or structure.
Chemical grout is a safe, effective, and speedy way to fix small and large issues related to water intrusion. We are here to help you select the right product for your application. We also offer in-person and online training to learn about safety issues when working with chemicals, as well as product selection and application methods. For more details about PrimeLine Products' chemical grouting accessories and equipment, contact us today.