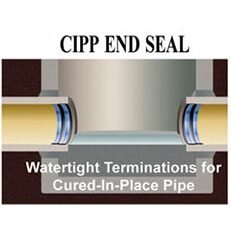 Top Facts About the Trelleborg Internal Seal
When your crew maintains, tests, or repairs manholes, joints, or pipelines, you need to have reliable manhole and joint sealing products for safety and effectiveness. Trelleborg internal seals allow your team to prevent infiltration of groundwater, silt, and soil. They also stop the exfiltration of sewage, water, other fluids, and gases from the manhole or pipeline.
At Primeline Products, we offer a full selection of Trelleborg joint seals. Before you place an order, here's what you need to know about these important seals.
Durable Rubber Seal
Trelleborg internal seals feature a rubber perimeter. Along with chemical grouting supplies, this compression creates an airtight and watertight bond between the manhole's opening and its cone. We offer these seals in a range of sizes and widths to fit 18-inch to 122-inch pipes and standard manhole openings. If your application requires a material other than rubber, we can customize your seal with nitrile.
Withstand High Groundwater Pressure
Our Trelleborg internal joint seals and chemical grouting products compress against the joint of two pipes and expand when the pressure of groundwater increases. They work in pipes made of PVC, HDPE, concrete, vitrified clay, steel, ductile, and cast iron as well as reinforced concrete. We offer these seals in standard configurations, as well as elliptical and arched shapes which are available upon request.
Environmentally Sound
Trelleborg joint seals don't leach any chemicals. They're safe to use in or near potable water lines. The reusable seals offer a long lifespan and can be paired with Avanti chemical grouting products for enhanced durability.
Trelleborg internal seals promote efficiency, accuracy, and safety in the field. Their compatibility with a wide range of materials and sizes makes them an optimal choice for sealing manholes and joints.
To learn more about Trelleborg internal seals or any of our chemical grouting accessories and equipment, contact us today at Primeline Products!