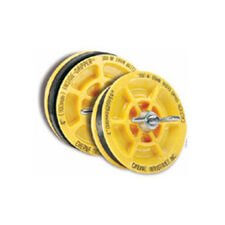 Product Features of Mechanical Plugs
Whether your crew needs to inspect, repair, or test a pipe, they'll need pipeline plugs. At PrimeLine Products, we offer a full selection of mechanical pipe plugs for all trenchless pipe rehabilitation, inspection, and testing applications.
Let's take a look at the features of these plugs and how they make your job easier.
Tool-Free Installation
We offer mechanical pipe plugs that don't require tools for installation. Our iron-grip bypass plugs twist into place with a wingnut. The Gripper series of plugs also offers easy installation, and they perfectly pair with our pipeline plug accessories.
Inert Construction
When you install our mechanical and pneumatic plugs in a pipe, exposure to acidic, alkaline, corrosive, or oxidizing chemicals will not cause damage. The seals on our plugs resist cracking, peeling, and degrading. Glass reinforcement in the threads and stainless steel and brass features ensure longevity for long-term applications.
Meet EPA Requirements
Our mechanical pipe plugs meet EPA requirements for well locking and DWV testing. Their natural rubber o-rings don't leach or degrade when exposed to water, petroleum products, or sewage. The Gripper plug series works for long-term applications in all types of harsh and environmentally sensitive environments.
Compatible With All Pipe Types and Sizes
We have a mechanical plug for every type of pipe. Whether you need to repair, test, or inspect a clay, cast iron, steel, plastic, or cement pipe, we have plugs and pipeline plug tools to efficiently do the work. Our plugs work on pipes measuring two to 18 inches in diameter.
Our pneumatic and mechanical pipeline plugs facilitate efficient pipe testing, repair, and inspections. They keep your crew safe, meet all environmental standards, and provide durability and strength, even in tough conditions.
For more information about our mechanical pipe plugs, contact us today at PrimeLine Products!