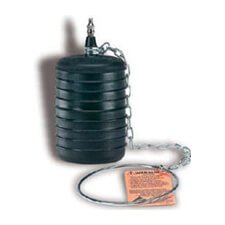 Pneumatic Plug Tools: Main Advantages
When you're testing, inspecting, or rehabilitating pipes, a pneumatic plug is an essential part of the process. They prevent fluids from moving into the area where you're working. These plugs also allow you to get accurate and precise measurements of any leaks contained by the plug. At PrimeLine Products, we offer pneumatic pipeline plugs, tools and supplies that will help you improve your productivity, safety, and the information you need to keep your system operating at peak efficiency.
Quick to Use
When you need to block the flow in a hurry, there's a clear advantage of pneumatic over mechanical pipeline plugs. Inflating a pneumatic plug only takes a few seconds. Inflate them with a hand or power pump. Their expandable bladders allow you to inflate them to the right pounds per square inch to completely block liquid and gas flow.
Adaptable
Pneumatic plugs work in all types of pipes. It doesn't matter if you're working on old clay or iron pipes or newer PVC, PE, or HDPE pipes. We also carry Pillow style urethane plugs that offer resistance to chemicals including petroleum products, so they can be used in harsh chemical environments. We offer multi-size plugs so you don't have to have a different plug for every size pipe you are working with. For example we offer the Cherne 12-24 and 15-32" plugs. This is accomplished by using a high quality natural rubber that not only has great sealing properties, they also have excellent expansion and memory.
Multi-functional
Our multi-functional pipeline plugs facilitate a wide range of tasks. Use them for bypass pumping, to check the pressure, locate leaks, or conduct line acceptance testing.
Our durable, versatile, and easy-to-use pneumatic tools and plugs for pipes facilitate a wide range of pipe rehabilitation. Use them on residential, commercial and municipal projects in any type of environmental conditions. For additional information or product specifications on our pipeline plug accessories and tools, contact us at PrimeLine Products.