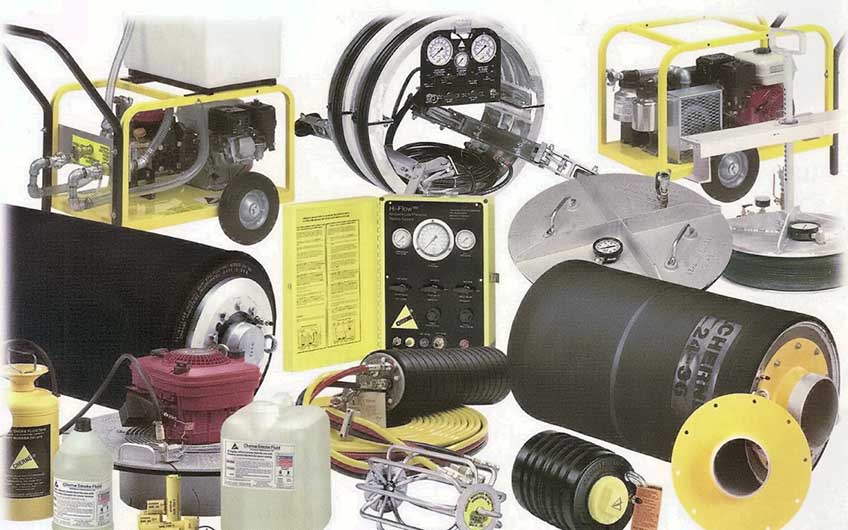 Understanding Trenchless Equipment
As a plumbing contractor or business owner, you'll be in demand for a full range of services. Aging infrastructure is one of the most common reasons why residential, commercial, and municipal customers need pipe repairs and replacements. Trenchless pipe rehabilitation minimizes disruptions to customers and provides a cost-effective solution for pipe repairs and allow them to avoid costly replacement. Understanding the range of trenchless equipment PrimeLine Products manufactures helps you make an informed decision about running your business.
How Trenchless Pipe Lining Equipment Works
Only one or two access points are required to make a trenchless repair. For example, our Maxliner lining gun requires just one access point, such as a clean-out, a roof port or drain, and an exit. The lightweight and compact design allows the equipment to easily navigate stairs, basements and crawl spaces. Using the lining gun, you will be able to invert a liner that was impregnated with a resin, into your existing damaged pipe. Once this liner cures, you will have a seamless pipe within your original pipe, with no joints that could allow infiltration or roots to enter.
Types of Trenchless Rehabilitation Equipment
Our pipe lining systems are the center of the systems we offer. These products allow you to rehabilitate deteriorating and aging pipes. Prior to lining any pipe, it must be prepared. We offer millers and other equipment to remove all material stuck in the pipe. The pipe can be rehabilitated with a Cured In Place Pipe (CIPP) liner or if the pipe is still structurally intact, you complete the rehabilitation process by applying a protective coating of epoxy with our Picote Coating system. In the event that your CIPP cuts off any connections, we offer reinstatement tools to open them back up.
Advantages of Trenchless Pipe Lining Solutions
Trenchless pipe rehabilitation is the method of choice in a wide range of circumstances. With no need to excavate the whole length of the affected pipe, you can accomplish more work in the same amount of time. Customers save money when you choose our Primeliner Sectional Point Repairs, chemical grouts, and pipe lining systems to repair your pipes. Our trenchless equipment is designed to last for decades, and they provide excellent value to you and your clients.
Investing in the right trenchless rehabilitation equipment could revolutionize your business. You'll be able to expand your range of services and your customer base. For additional details about PrimeLine Products' trenchless equipment for sale, contact us today.