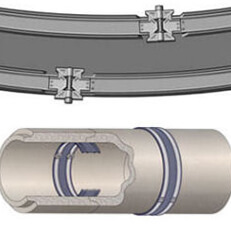 Is the Trelleborg Internal Seal Right For You?
If it's not reliable and water-tight, then it's not good enough. The Trelleborg Internal Seal is a popular manhole and joint sealing choice at PrimeLine Products due to its strength, reliability, and versatility. It is specially designed to create a complete seal at line joints and can withstand significant environmental stress.
Basic Seal Uses
Internal seals are an essential component that prevents infiltration of contaminants into water supply lines as well as exfiltration of sewer contents into the soil. These are both important health and safety issues for everyone living on or around the property in question. This seal is ideal for use alongside chemical grouting along pipe interiors and is suitable for concrete pipes, manholes, and other underground infrastructure. Trelleborg external seals are also available for reverse applications to seal infrastructure from the outside.
Design and Materials
Since it's meant to be used alongside chemical grouting supplies, the seal is made from stainless steel bands and a durable rubber compound. This allows it to compress to create a good seal with the pipe. The ring also expands when exposed to higher a pressure to create a firmer seal.
Proper Application
Like all chemical grouting accessories and equipment, service providers need to deploy the solution properly to get the most value out of it. Fortunately, our products are implemented and packaged to minimize the chance of user error. We also offer information and technical specifications to help operators get it right the first time.
Find the Right Solution
Not every product is right for every provider. That's why PrimeLine Products strives to provide a healthy selection of the highest quality products on the market, ranging from fiberglass liners and pneumatic plugs to Avanti chemical grouting. We work with our clients to help them find solutions that will provide long-term value to their customers and their brand. Contact us today and see the difference our products can make!