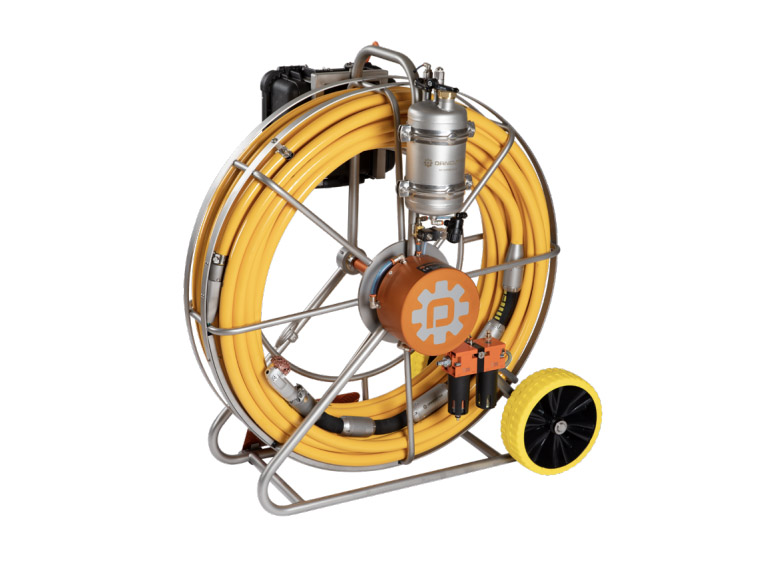 Features of DC Super Flex and DC Maxi Flex
When you have to perform trenchless pipe rehabilitation, you need efficient, powerful, and precise tools. The Dancutter series of tools delivers the speed, reliability, and durability that contractors like you need for productivity and excellent customer service.
Let's take a look at the features of the DC Super Flex as well as the DC Maxi Flex and how these tools will benefit your team.
DC Super Flex Features
Navigate through multiple 90-degree bends in small pipes with the DC Super Flex. It easily maneuvers through pipes measuring six inches or smaller in diameter. This cutter operates with pneumatic power, which allows it to quickly push through both straight and bent pipes. The blades offer 360-degree rotation, ensuring even cuts every time. Use it to cut through steel, concrete, cast iron, PVC, or cement pipes. The DC Super Flex is a must-have tool for contractors who serve residential customers, small businesses, and light commercial clients.
DC Maxi Flex Features
Enjoy the ultimate in cutting power with the DC Maxi Flex. Its durable motor efficiently cuts through pipes measuring four to 12 inches in diameter. This cutter effortlessly navigates through plumbing systems with multiple 45-degree bends. A 12-inch color display shows you the cutter's progress in the pipe. In addition to cutting through steel, cast iron, concrete, cement, and PVC pipes, the DC Maxi Flex also grinds pipe ends. Your contractors can use the DC Maxi Flex for reopening laterals, removing mineral deposits, and milling pipes.
Our selection of Dancutter products, including the DC Super Flex and the DC Maxi Flex, meet and exceed the stringent standards for accuracy, precision, power, and efficiency. Our team looks forward to answering any questions you have about the features of these cost-effective and durable cutting solutions.
For more information or to place an order, reach out to us at PrimeLine Products today!