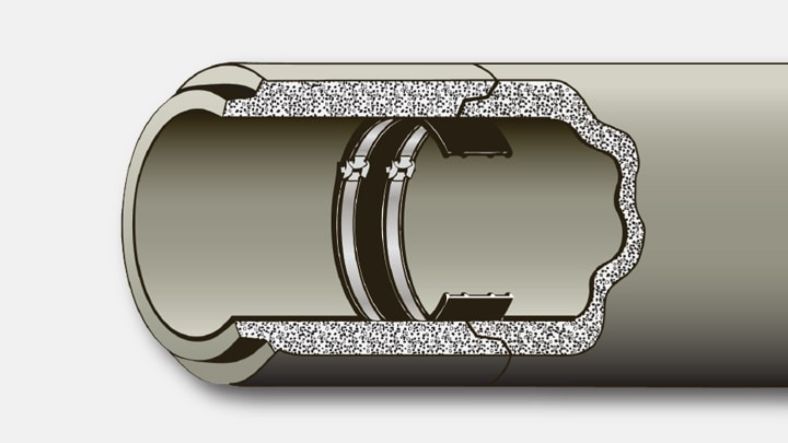 The Trelleborg Internal Seal
Water infiltration is one of the most common problems you'll deal with in residential and commercial water lines. In addition to our reliable Avanti chemical grouting and related accessories, we offer trustworthy Trelleborg internal joint seals. At PrimeLine Products, our goal is to provide you with top-quality products so that you can deliver great service and results to your customers.
Uses of Trelleborg Internal Joint Seals
Trelleborg internal joint seals have a flexible rubber ring that creates a watertight seal. As the stainless steel band expands, the rubber ring compresses to form a tight seal against the walls of the pipe. When the pressure increases, the ring expands creating a tighter seal. These seals can be used along with chemical grouting in a pipe.
Sizes and Compatibility
We offer three sizes of internal joint seals to handle pipe diameters of 15-96" (special ordered seals for pipes up to 10 FT ID are also available). Most joints are compatible with our 7.5-inch Trelleborg seals. If you need a larger sealing area, we also have the 10.5" seal and also a 7.5" extension flap that can tie into a 7.5, 10.5 or even another 7.5" extension flap to create a seal of any length.  We also have Trelleborg Flex Rib seals, commonly used to stop infiltration in the manhole chimney. Our seals are compatible with all types of pipe materials, including cast iron, ductile iron, concrete, reinforced concrete, HDPE, PCV, steel, and vitrified clay.
Advantages of Trelleborg Internal Joint Seals
These seals withstand 30 feet of external head pressure, which is much higher than most leaks in residential and commercial pipes. Because these joint seals and chemical grouting supplies restore joints and manholes, your customers won't have to worry about water infiltration any longer.  
The lifespan of these seals exceeds 100 years due to the high grade rubber used and 300 series stainless bands (meets requirements of ASTM C923).  You only need a torque wrench and socket to install these seals.
You can also feel good about buying these seals as all the materials used comply with the "Buy America Act" and meets the requirements of 49 U.S.C. 5323 (j)(1) and the applicable regulations in 49 C.F.R. Part 661.5.
Trelleborg internal joint seals are a welcome addition to your collection of chemical grouting accessories and equipment. They're made to last, easy to install, and compatible with a wide range of pipe sizes, locations, and materials. For additional product specifications or other information, reach out to us at PrimeLine Products today.