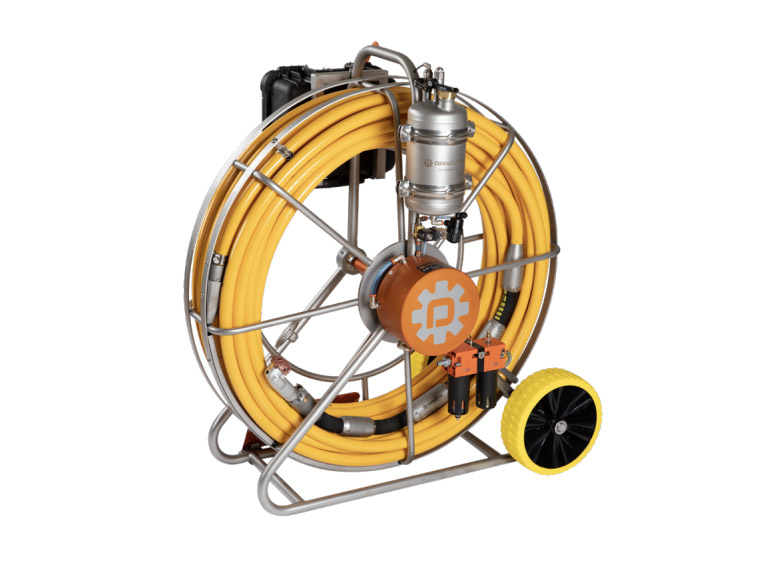 Why You Can Always Rely on the DC Maxi Flex
When you need the ultimate in cutting power, the DC Maxi Flex delivers. The Dancutter's reliability, safety, and performance make it the top choice of trenchless pipe rehabilitation contractors all over the country. Let's take a closer look at why you can always rely on the DC Maxi Flex for trenchless pipe repair and replacement.
Works on All Pipe Materials
Upon arrival at a worksite, you may not immediately know what type of pipe you need to restore. With the DC Maxi Flex, pipe material doesn't matter. It works on pipes measuring four to 12 inches in diameter. The DC Maxi Flex handles cast iron, clay, PVC, ABS, Orangeburg, HDPE, steel, fiber cement, concrete and more. It navigates around 6-inch pipes with 45-degree bends and 8-inch pipes with 90-degree bends.
Built-in Camera Slip Ring
During a pipe rehabilitation project, you need a full view of the work area. The DC Maxi Flex's camera has a 360-degree slip ring. This allows the camera to fully rotate and provide you with a complete picture. Your crew can watch the milling motor as it works. As the camera turns, you can watch the full-color display on the unit's ground-level 12-inch monitor.
Single-Person Operation
If your crew is short-staffed, the DC Maxi Flex provides flexibility. It only requires one crew member for safe and effective operation for all of its functions, including cutting, milling, and grinding. The tool's rugged wheels make it easy to pull across uneven terrain. With the DC Maxi Flex, your contracting business will quickly assist commercial and residential customers who need prompt and minimally invasive pipe restoration services.
Dancutter tools deliver the productivity, efficacy, and reliability you need. These tools and others in our store help you provide top-notch customer care without sacrificing profitability. To learn more about the features of the DC Maxi Flex, get in touch with us at PrimeLine Products!