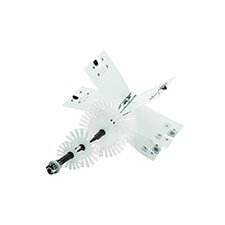 Picote Lateral Cutters
One essential part of sewer line rehabiliation involves reconnecting the laterals after trenchless technology has repaired and relined the broken sewer pipe. Technicians will have to rely on a lateral cutter that can withstand great pressure as the new liner is cut according to the right size. Contractors who specialize in the fields of pipeline rehabilitation, evaluation, pipeline structuring and corrosion control will certainly require a powerful lateral cutter that's both reliable and easy to use.
Our driving mission is to deliver the best quality products to our customers, to our vendors and to the industry. Primeline Products Inc. is an authorized reseller of Picote Products, a brand that offers high quality, cutting-edge lateral cutters used for small diameter drain pipes.
Award Winning Lateral Cutter and Remedial Tool – The Smart Cutter
The innovative lateral cutter that can process 1 1/4″ to 8″ drains. The Smart Cutter has singlehandedly reinstated over 40,000 branches from all over the world clay, concrete and cast iron pipes.
Using the Smart Cutter eliminates the need to go the traditional route. Moreover, the fully customizable and intuitive design is carefully crafted to minimize training downtime and maintenance costs. You can optimize this lateral cutter for the best lateral reinstatement according to pipe diameter. Use in conjunction with the Twister for a smoother finish or as an exceptional tool for robots.
The Smart Cutter navigates easily down 90-degree bends to shape accurate openings without damaging the original pipe. It can also remove epoxy slugs, fins, roots, nails, lead and inconsistencies, including pipe wrinkles.
Pipe Cutter
The pipe cutter panels attach with your Smart Cutter to eliminate excess liner that has overshot during the pipe lining process. Power the cutter using a hand drill or a Picote milling machine for DN200, DN150, DN100 and DN70 pipes.
The Ultra Flex is an all-in-one unit that you can use when there's a bend in the pipe lining location. The DN200 Pipe Cutter is mainly powered by the Maxi Miller.
The Twister Mini
Created to reinstate DN50/2″ and DN70/3″ clay, cast iron and plastic piping, whether for lined or unlined pipe applications. The original Twister may be used for DN100, DN150/ 4″ and 6″, and for DN200/ 8″ clay, cast iron or plastic pipes.
The Twister Express
Used for quickly reinstating connections up to 6 times faster than its predecessor, the Twister. Can be used for DN100/ 4″ pipes, and for lined or unlined piping.
Picote solutions can significantly minimize cutting mistakes that can be a costly affair. Contractors are aware that any lining process should be completed quickly and on time to have an edge over the competition. Contact us on how you can gain that edge using Picote products.
Ready to Order With Primeline?
At Primeline Products Inc., our friendly staff is ready to assist contractors and plumbers with all of their questions and concerns.
Contact Us