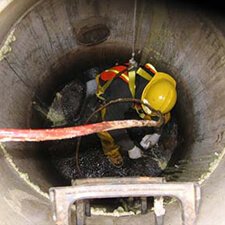 Paikert™ High Impact Torque Cutter
The Paikert™/Intruder is a low speed, high torque impact cutter designed for more severe blockages. When conventional cutters simply can´t cut it, consider the Paikert™/Intruder. Paikert™/Intruders have successfully been in use worldwide for over 25 years.
The machine is the most capable on the market due to its patented "Hydro-Torque" impact drill motor. It´s designed to work with today´s sewer jetting machines and does not require lubrication after use. So, whether you´ve got a pipe full of hardened concrete, stubborn chemical or mineral deposits, protruding taps or thick heavy root growth in large pipes, the Paikert™/Intruder is your best alternative.
Ready to Order With Primeline?
At Primeline Products Inc., our friendly staff is ready to assist contractors and plumbers with all of their questions and concerns.
Contact Us