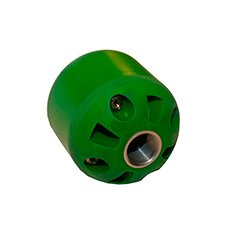 BL Swiper® Sewer Nozzle
"The BL Swiper® is the patented sewer-cleaning nozzle from NozzTeq® designed to concentrate Jetstream by preserving smooth flows from jetter to nozzle end. It incorporates air channels to suck water through the nozzle, efficiently removing pipe blockages. These channels, and other advanced features, allow the BL Swiper® to operate at low pressure, using half the amount of water required by comparable cleaning nozzles. Jetter life is extended, less fuel is used, sewer lines are not harmed, and blown toilets and services are nearly eliminated.
The BL Swiper® is housed in a sturdy polymer that provides a resilient buffer between the pipe and nozzle, protecting both. Inside the polymer cladding, the nozzle is made entirely of stainless steel, with replaceable rear jets and no moving parts, extending the useful life of the nozzle many years, considerably longer than nozzles that are more cheaply made or require expensive rebuilds!
Ready to Order With Primeline?
At Primeline Products Inc., our friendly staff is ready to assist contractors and plumbers with all of their questions and concerns.
Contact Us