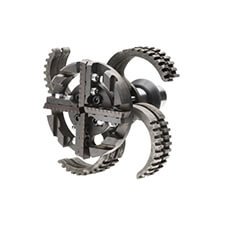 Picote Collapsed Liner Removal
A perfect lining process doesn't always happen everytime. Sometimes a liner could fail, or it could collapse. It could cure, but not in the position you wanted it to.
The good thing is that it can still be mended and repaired. Contractors are now able to remove collapsed liners quickly and with better efficiency, thanks to helpful Picote tools that were made specifically for these types of difficult tasks.
Lining Challenges
Carrying out the perfect lining process isn't always an easy affair. Sometimes challenges come along and cause headaches for both drain cleaning contractors and homeowners alike. Here are some sample occurrences:
The resin was successfully brushed in the pipe but it looks like the liner wasn't able to bond correctly. Now, the liner has collapsed and is now blocking the drain pipe.
Household waste water has flooded the lower rooms of a residential property due to a collapsed liner.
Drain cleaning contractors try to solve the problem and remove the liner using a variety of unproven methods such as chiseling in along the pipe's length. This makes fixing the collapsed liner a more challenging process.
Our PrimeLine Products, in line with Picote partnership, ensure only the best tools are available for you on any lateral lining project you may have. Liner wrinkles collapsed pipe sections and long lining can now be remedied in a much faster manner.
The Twister Liner Remover Duo
The Twister Liner Remover is an excellent tool for correcting a collapsed liner. Featuring 2 front brushes for unparalleled stabilization, the Duo now also has a custom drill head that is flat. The new 3mm front metal panels are larger and have more carbide material than its predecessor, making it more efficient than older Twister models.
The Twister Liner Remover shines in DN100/ 4″ and DN150 /6″ PVC, clay and cast iron applications. Use with the Maxi Miller for the best effect. The Maxi lends a lengthy 30m to 100ft. reach. Combine with Cyclone Chain or the Smart Cutter for great results
The Smart Sweeper
The Smart Sweeper is a versatile collapsed liner remover that can be applied to DN150, DN200, and DN225 with diameters ranging from 6″ to 12″ It is a specially-made tool that can repair collapsed piping material found along the walls of the pipe. The most common method of application is when contractors need to repair collapsed pipes with liners that prove to be too large for the pipe diameter.
Change the front head to get the best results. The Front Drill Head can eliminate stubborn wrinkles while the Smart Crusher Head can be utilized to fix collapsed sections found in the middle area of the pipe.
Use the Smart Sweeper in conjunction with the Maxi Miller exclusively. The new Maxi Miller Power Plus is an upgraded version, featuring powerful multipurpose functions designed to increase efficiency. You can use the combination to repair DN150 to DN300 /6″ to 12″, or DN70 and DN100 /3 to 4″ sewer lines. It's built to remove collapsed liners much more quickly than other models due to its 2x more power than the Maxi Miller.
Contact us today for more about our top-quality trenchless and pipeline equipment.
Ready to Order With Primeline?
At Primeline Products Inc., our friendly staff is ready to assist contractors and plumbers with all of their questions and concerns.
Contact Us