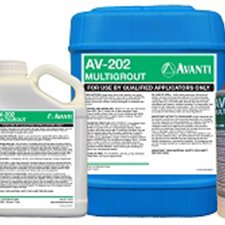 Avanti Chemical Grouts from PrimeLine Products
Since 1978, Avanti International has been the only full-service provider and most experienced producer of high-quality injection grouts in North America. These include acrylic, polyurethane, and Ultrafine types of cement. AvantiGrouts are used world-wide as the go-to product with technical support for municipal, industrial, commercial, and geotechnical applications used to stop water infiltration, stabilize soils, encapsulate hazardous waste, and control groundwater.
Technical Data Sheets
https://www.avantigrout.com/products/technical-data-sheets
Safety Data Sheets:
https://www.avantigrout.com/resources/product-information/msds-and-sds-1
Application Techniques:
https://www.avantigrout.com/resources/application-techniques
At PrimeLine Products, we are proud to provide the best accessories and equipment for your plumbing projects big and small. That's why we offer Avanti Chemical Grouting, along with other types of top trenchless and pipeline equipment. Throughout the region, we supply residential, commercial, and municipal clients with high-quality pipe line products.
Product Features
Our chemical grouting supplies from Avanti are designed to stop leaks, stabilize soil, and control groundwater. These products are also effective for manhole and joint sealing. The Avanti grouting product line includes Ultrafine SD Cementitious Grouts. This grout is known for having some of the finest particle sizes in the industry.
Also available is the Ultrafine VX grout with its polycarboxylate based superplasticizer formula. This allows the grout to have minimal bleed and high compressive strengths. Finally, there is the USG Super. The USG Super is a liquid dry powder polycarboxylate-based superplasticizer that works with the Ultrafine VX grout to greatly improve flow characteristics.
Specifications
Ultrafine SD Cementitious Grouts has an average particle size of only 3 to 4 microns. Compare that to the competition which has an average particle size of 60 to 70 microns.
Ultrafine VX grout is comprised of a finely ground mixture of Portland cement, pumice pozzolan, mixed with a dispersant.
USG Super is available as either a two-gallon liquid or a 44-pound dry bag. The USG Super is designed to work with the Ultrafine VX grout.
Benefits
The overall benefits of Avanti Chemical Grouting products are that you get a cement mix that gives you very high compressive strengths. This is ideal for important projects such as crack injections. That means that you have a foolproof solution against any type of leaks and seepage. Also, this mix is designed to last. This can save you money on any of your projects. Finally, these grouts are easy to work with and they comply with NSF/ANSI Standard 61 – Drinking Water System Component requirements.
Advantages
One of the biggest advantages of Avanti Chemical Grouts is the small particle size. This ensures that you are getting a high-quality mix. This can be crucial when working on highly sensitive projects or projects that put your systems to the test.
Another advantage of Avanti Chemical Grouting products is that they are American-made. That means you are getting the best quality product. Additionally, as an American-based company, we can make sure that you can expect a fresh supply of grouting products when you need it.
Finally, Avanti Grouting products, accessories, and equipment are safe. The Ultrafine SD Cementitious Grouts are safe for water drinking components. You can rest assured that when you use Avanti Grouting products, you have a product that will serve your project well.
Contact Us for Avanti Chemical Grouting Supplies
Get your top chemical grouting supplies from PrimeLine Products. We can help you with chemical grouting and soil stabilization. As a top trenchless rehabilitation equipment provider, we have the supplies that you need to complete your project quickly.
Our company has had the highest quality standards for over 20 years with accurate estimates and professionally trained, certified, and drug-tested technicians. Our family-owned company is ready to serve you. Contact us today whenever you need trenchless and pipeline equipment that will last long. Feel free to buy online and have quick access to our Avanti products so you can address any of the following needs:
Chemical Grouting
Chemical Grouting Supplies
Accessories and Equipment
Manhole and Joint Sealing
Crack Injection
Soil Stabilization


Ready to Order With Primeline?
At Primeline Products Inc., our friendly staff is ready to assist contractors and plumbers with all of their questions and concerns.
Contact Us