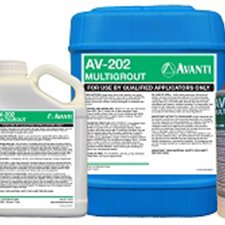 Avanti Chemical Grouts from PrimeLine Products
At PrimeLine Products, we are proud to provide the best accessories and equipment for your plumbing projects big and small. That's why we offer Avanti International's Injection Grouts, along with other types of top trenchless and pipeline equipment.
About Avanti
Since 1978, Avanti International has been an American-owned and operated provider of high-quality injection grouts in North America. Avanti's grouts are designed to stop leaks, stabilize soil, and control groundwater in municipal, industrial, and geotechnical applications around the world.
Starting with only one product, AV-100® Acrylamide Chemical Grout, Avanti's product line has grown to include a comprehensive line of chemically reactive, polyurethane, epoxies, and cementitious grouts.
Injection Grout Products Stocked at PrimeLine Products
AV-100® Chemical Grout – a dual component, chemically-activated gel used to stop water infiltration into manholes, mainlines, laterals, lateral connections, and other underground structures by creating an effective, long-lasting water barrier on the exterior of the structure. Once cured, it creates an effective, long-lasting water barrier while providing superb soil stabilization. AV-100 is used with AV-101 Catalyst T+ and AV-102 Catalyst AP.
AV-202® Multigrout – a single component, moisture-activated polyurethane injection grout designed for sealing active water leaks in large cracks or joints in concrete structures and is often used in conjunction with Oakum. AV-202 is versatile in that it can absorb up to 10x of its weight in water. AV-202® Multigrout is certified for NSF/ANSI/CAN 61 – Drinking Water System Components.
AV-275 Soilgrout™ with AV-276 Soilcat™ – a low viscosity polyurethane resin that is designed to react quickly to stop high water flow, bind together, waterproof loose granular soils, and fill voids. AV-275 is mixed with catalyst AV-276 and injected as a single component, forming an impermeable barrier that withstands wet/dry cycles. AV-275 Soilgrout is tested and certified for NSF/ANSI/CAN 61 – Drinking Water System Components.
Visit Avanti's product Directory for a listing of all grouts and grouting accessories available. Other Avanti Resources:
Contact Us for Avanti Chemical Grouting Supplies
Get your top injection grouting supplies from PrimeLine Products. We can help you with chemical grouting and soil stabilization. As a top trenchless rehabilitation equipment provider, we have the supplies that you need to complete your project quickly.
Our company has had the highest quality standards for over 20 years with accurate estimates and professionally trained, certified, and drug-tested technicians. Our family-owned company is ready to serve you. Contact us today whenever you need trenchless and pipeline equipment that will last long. Feel free to buy online and have quick access to our Avanti products so you can address any of the following needs:
Chemical Grouting
Chemical Grouting Supplies
Accessories and Equipment
Manhole and Joint Sealing
Crack Injection
Soil Stabilization


Ready to Order With Primeline?
At Primeline Products Inc., our friendly staff is ready to assist contractors and plumbers with all of their questions and concerns.
Contact Us