T80 3", 4", 6" Small Pipe Lateral Reinstatement Cutter
Besides the need for relining sewer mains, there is also a growing need to reline the smaller diameter lateral pipes that run from buildings to the main lines. These smaller pipes crack, separate and break, and are responsible for 50% of the inflow and infiltration of ground water to be processed by municipal sewage processing plants.
Water hydraulic cutting gives big power in a smaller package
Water hydraulics eliminates potential environmental hazards
Access pipe systems via clean out ports or rooftop vents
Set up and operation are quick and simple
Includes 100 feet (30 meters) of working cable
Cutting head includes a color camera with a self-cleaning lens
T80 – 3" to 6" Flex Cutter
System Package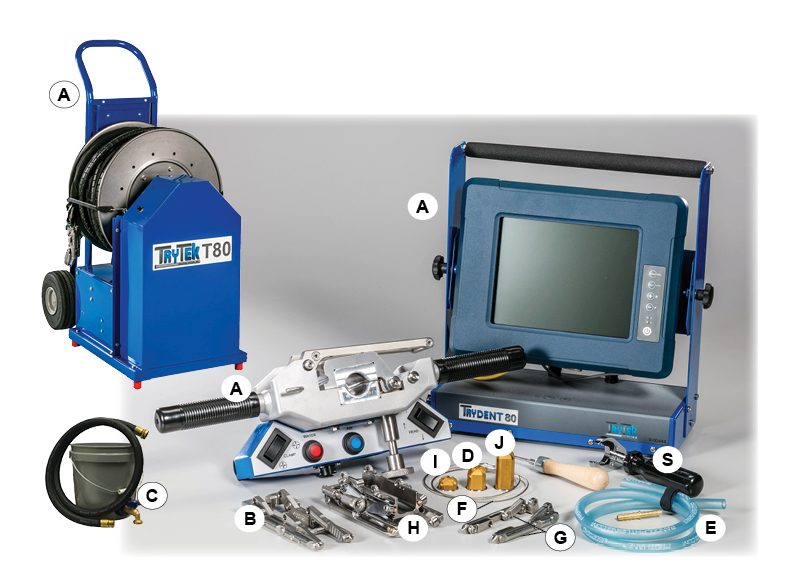 T80 – 3" to 6" Flex Cutter System Package w/ Contractors Kit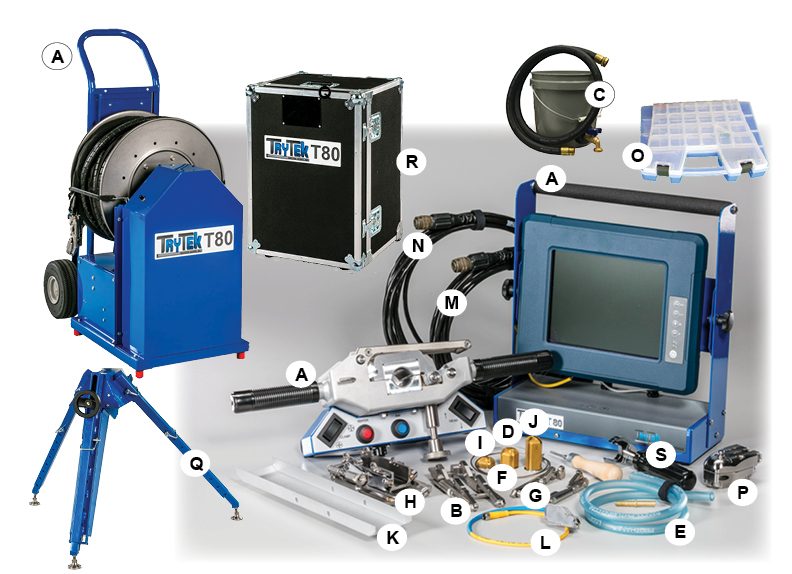 Vertical Reinstatement
The TRYDENT 80 cutter system allows you to reinstate an entire vertical waste pipe from a single access point. Navigate multiple bends and turns.
Flexibility
Small, powerful cutting head can be maneuvered around 90° and 45° elbows. Reach extends up to 100 feet.
Accessibility
The TRYDENT 80 Unit is only 23" wide for easy interior access through doorways. Can be used indoors or outdoors.
Horizontal Reinstatement
Now you can reinstate lateral waste pipes connected to the sewer main at ground or basement level.
TRY TEK's Mainline Legacy Cutting System
TRY TEK's Mainline Legacy Cutting System has been a reliable asset for reinstating CIPP relined pipes since 1985.
Here's Why:
The Flexibility to Handle a Wide Range of Reinstatement Situations.
The Legacy Cutting System offers a wide assortment of skid packages, standoffs, cutting heads and air router mounts to handle virtually any 6" to 15" mainline reinstatement scenario with a single cutting system. The TRY TEK Legacy Cutter is an invaluable tool that has a proven track record of performance backed by hundreds of units in service since 1985.
The Ability to Navigate Unexpected Bends and Offsets.
Many times when reinstating lateral pipe connections, there are situations where the pipe has settled and offset, or there is an unexpected bend in the pipe. With the Legacy Cutting System from TRY TEK you can navigate offset and bent pipes.
Learn More
Ready to Order With Primeline?
At Primeline Products Inc., our friendly staff is ready to assist contractors and plumbers with all of their questions and concerns.
Contact Us