T80 3", 4", 6" Small Pipe Lateral Reinstatement Cutter
Besides the need for relining sewer mains, there is also a growing need to reline the smaller diameter lateral pipes that run from buildings to the main lines. These smaller pipes crack, separate and break, and are responsible for 50% of the inflow and infiltration of ground water to be processed by municipal sewage processing plants.
Water hydraulic cutting gives big power in a smaller package
Water hydraulics eliminates potential environmental hazards
Access pipe systems via clean out ports or rooftop vents
Set up and operation are quick and simple
Includes 100 feet (30 meters) of working cable
Cutting head includes a color camera with a self-cleaning lens
T80 – 3" to 6" Flex Cutter
System Package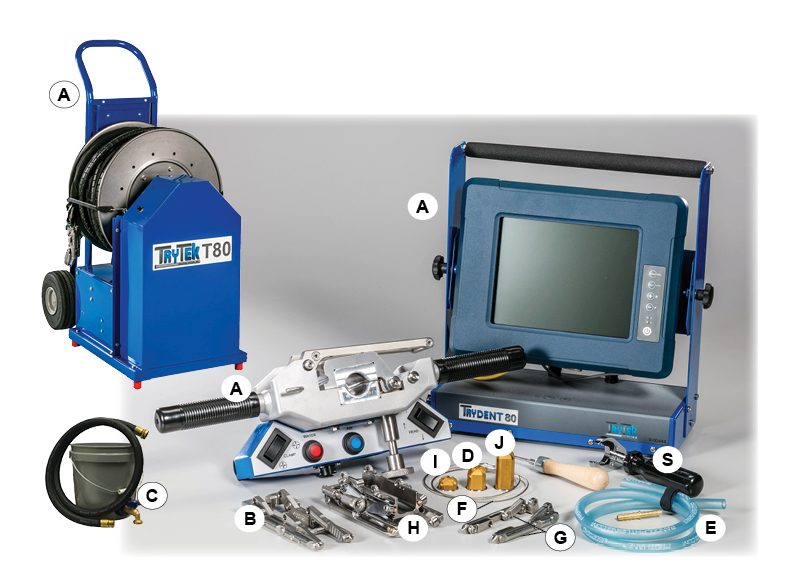 T80 – 3" to 6" Flex Cutter System Package w/ Contractors Kit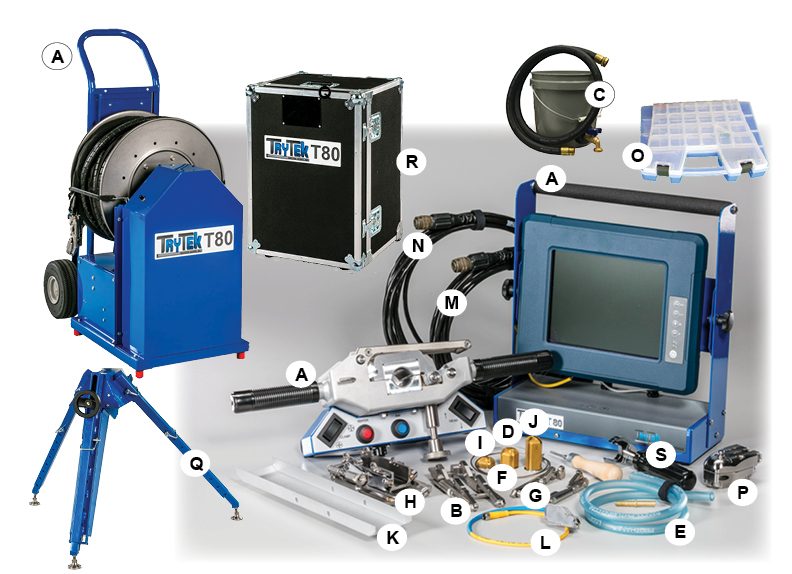 T80 – 4" Flex Cutter System Package
A: #9-01137 – T80 Main System
B: #9-00462 – 4″ Skid package
C: #9-01024 – Antifreeze installation kit
D: #9-00731 – Cutter bit\slinger – 25mm dia x 25mm
E: #9-00734 – Water exhaust kit
F: #9-00737 – Tow Cable Kit
G: #9-00573 – 3" Skid package
H: #9-00463 – 6" Skid package
I: #9-00730 – Cutter bit\slinger – 25mm dia x 13mm
J: #9-00780 – Cutter bit\slinger – 25mm dia x 45mm
K: #9-00563 – 4″ Skid extension & screws
L: #9-00736 – Camera replacement kit
O: #9-01230 – Handlebar cable extension 9M
P: #9-00383 – Motor "head" assembled complete
Q: #9-00481 – Tripod
R: #9-01185 – Wheeled transport case L 29″ x W 21″ x H 20″
S: #9-01180 – Misc. hardware kit
Vertical Reinstatement
The TRYDENT 80 cutter system allows you to reinstate an entire vertical waste pipe from a single access point. Navigate multiple bends and turns.
Flexibility
Small, powerful cutting head can be maneuvered around 90° and 45° elbows. Reach extends up to 100 feet.
Accessibility
The TRYDENT 80 Unit is only 23" wide for easy interior access through doorways. Can be used indoors or outdoors.
Horizontal Reinstatement
Now you can reinstate lateral waste pipes connected to the sewer main at ground or basement level.
T150 5"-18" Reinstatement Cutting System
The T150 is a revolutionary new product based on years of suggestive customer feedback and input from professionals in the industry. The T150 will enhance the customer experience over previous designs:
Key Benefits:
Clamshell design for ease of maintenance
A spare ram can be swapped out in minutes
Centered head for negotiating offsets and obstacles
Incorporates a watertight ram compartment for protection against moisture damage
Electronic torque limiting protection against motor damage
Digital two conductor control design for additional function expansion
Panel-mount PC-based control box leaves the desk surface clear
Choice of Xbox controller or optional joystick control
Remote software update capability via the internet using Wi-Fi or wired connection
Easier to repair in the field with spare parts on hand
Capable of employing a wide variety of air routers, bits, brushes, and grinding wheels
Learn More
Ready to Order With Primeline?
At Primeline Products Inc., our friendly staff is ready to assist contractors and plumbers with all of their questions and concerns.
Contact Us